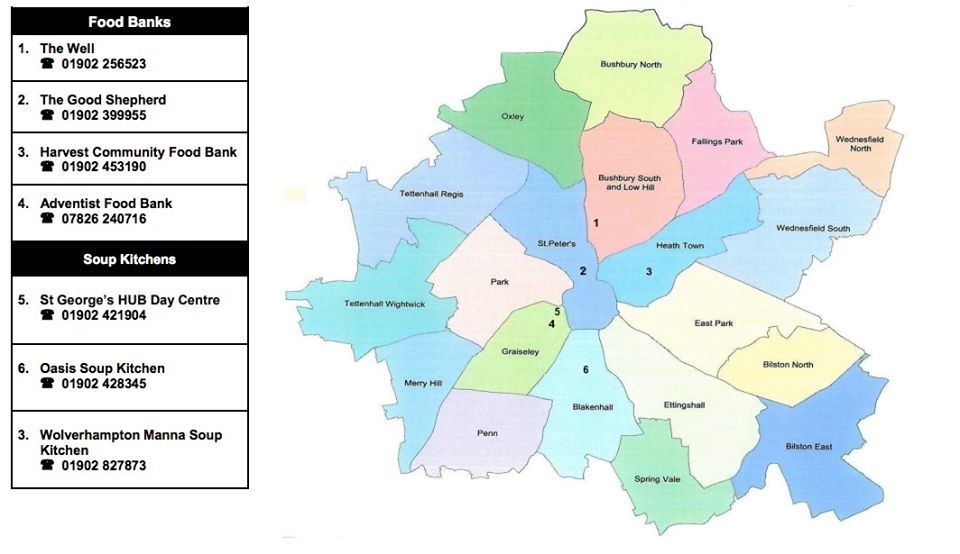 MAP LOCATION 1: The Well
Unit 16, Wulfrun Trading Estate Stafford Road Wolverhampton WV10 6HH
Telephone: 01902 256523
Email: info@thewellwolverhampton.co.uk
Website: www.thewellwolverhampton.co.uk
Referrals by phone through a recognised organisation (eg Social Services, Housing, Citizens Advice, Refugee & Migrant Centre and many others who provide advice & support across the city)
Tuesday to Friday between 9.30 am and 12.30 pm.
MAP LOCATION 2: Good Shepherd Ministry
65 Waterloo Road Wolverhampton WV1 4QU
Telephone: 01902 399955
Family food parcels provided on Tuesdays, 12.00 pm – 1.00 pm.
Individual take-outs available on Tuesdays and Fridays, 12.00 pm – 2.00 pm.
Dining services available Mondays, Wednesdays and Thursdays, 12.00 pm – 2.00 pm
MAP LOCATION 3: Harvest Community Food Bank
New Testament Church of God, New Trust Centre, 1 Wolverhampton Road (on the corner of Woden Road & Wolverhampton Road), WV10 0PD
Telephone: 01902 453190
Email: info@ntcgharvesttemple.org.uk
Website: www.ntcgharvesttemple.org.uk
Open Fridays between 3.30 pm and 5.00 pm.
Referral is not necessary but proof of address is required. Also operates a soup kitchen every other Tuesday from 12.00 noon to 3.00 pm (see listing for Wolverhampton Manna Soup Kitchen). Information – Wolverhampton Food Banks & Soup Kitchens 21.01.20
MAP LOCATION 4: Adventist Food Bank
215 Great Brickkiln Street, WV3 0PN
Telephone: 07826 240716
Email: adventistfoodbank@gmail.com
Website: seventhdayadventistfoodbank.btck.co.uk
Referrals from agencies only (phone call preferred but emails accepted).
Phone between 9.30 am to 4.00 pm, Monday and Tuesday only. Deliveries are made on the same day as referral between 5.00 pm and 7.00 pm.
There is a limit of 3 parcels in a 6-month period for a single person, couple or family.
MAP LOCATION 5: St George's HUB Day Centre
St Marks Road, Chapel Ash, WV3 0QH
Telephone: 01902 421904
Email info@st-georges-house.org.uk
Website: www.st-georges-house.org.uk
Open Monday to Friday between 8.30 am and 10.00 am, providing breakfast for 18+ men. Must be aged 18 or over, on a low income or vulnerable or homeless or at risk of homelessness or socially excluded.
MAP LOCATION 6: Oasis Soup Kitchen Christian Life Centre
Sedgley Street Blakenhall Wolverhampton WV2 3AJ
Telephone: 01902 428345
Email admin@clcwolverhampton.org
Website: www.clcwolverhampton.org
Open Mondays between 5.00 pm and 6.30 pm.